First Project For Oculus Rift: An Audio VR Clock
June 9th, 2015
With an Oculus in-hand, the first step was to see if I could somehow make an app which solved an actual problem for users of VR Headsets.
One of the first things I noticed was how easy it was to lose track of time in Oculus games, experiences and movies. Since a video overlay app didn't seem a good fit, using audio jumped out as a solution which wouldn't interfere with a person's VR experience.
The result? The Senomix VR Clock: A simple tool which responds to a user's headset taps and motions to announce time, sound/snooze alarms, and manage stopwatch and countdown timers.
Being audio, the app doesn't lend itself well to action shots, so this banner will have to do: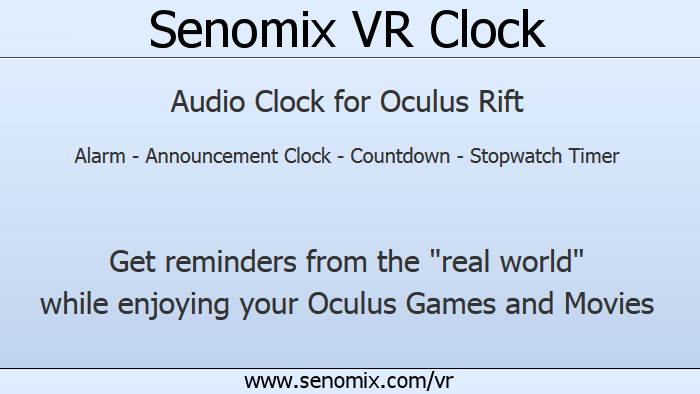 The app is just a beta release for now and is 100% free during the beta testing period. Cleanup of the initial audio recording and inevitable bugs will follow in the coming weeks (this is a true v0.1.0 beta release, rough bits and all) but, if you have an Oculus, I hope you'll give it a try and let me know what you think!